Pros and Cons Of Each Sinks Material
Author: Eric Morning / Wellong
Date: Dec. 11th, 2019
##Please look directly at the table at the bottom of the article, if you are anxious to know the conclusion.##

Stainless steel sink is the most popular kitchen sink material worldwide. Produced from the first stainless steel sink, it has always occupied the most dominant market share.Because it represents a good compromise between usability, durability, price and daily maintain.
Pros
*Popular
*Easy buy
*Affordable
*Heat resistant
*Low maintenance
*Diverse style

Cons
*Rust when touch acid and alkaline substances
*Be Scratched easily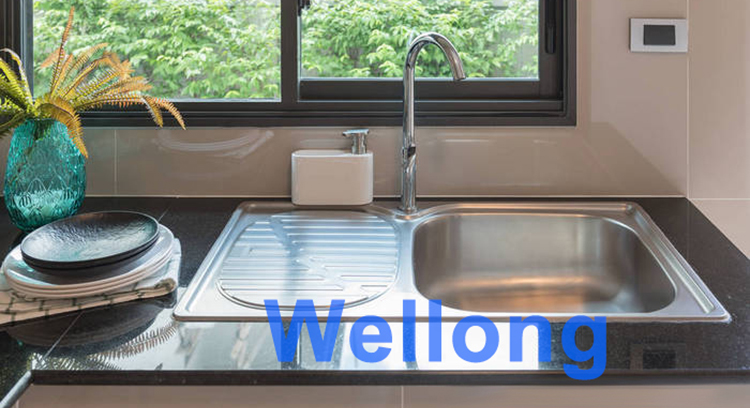 ---
Cast Iron sink
Enamel cast iron is a classic material. It's very heavy and stable. Most cast iron sinks are coated an enamel finish, which prevents them from rusting. The enamel can also resist scratching, but a strong impact can damage the surface of the cast iron sink and begin to rust.
Pros
*Durable
*Rust-proof
*Colorful style

Cons
*Extremely heavy
*Expensive
*If the enamel damaged, the cast iron will rust easily.
*Your sink will need to be supported underneath, taking up storage space

---
Fireclay Sink
Fireclay sinks are made by ceramic clay and cover with porcelain enamel. These sinks are usually apron style.
Pros
*Durable
*Easy clean
*Rust-proof
*Scratch-proof

Cons
*Few styles
*Usually only white color.
*Extreme expensive.
*Prone to cracking if not installed properly
*Your sink will need to be supported underneath, taking up storage space

---
Granite Composite Sink
Granite composite is quite possibly the best kitchen sink material. They are made of granite sand mixed with resin before it's molded into the shape of the sink.
Pros
*Durable
*Easy to clean
*Low maintenance
*Many color optional
*Heat proof
*rust resistant

Cons
*There are not many options for surface finish.
*Expensive than stainless steel.

---
Acrylic Sink
Acrylic are made of polycarbonate plastic, which is lightweight and easy to mold. They also contain some fiberglass in order to make the plastic stronger and are coated in resin, which makes them stain resistant .
Pros
*Very lightweight
*Inexpensive

Cons
*Not very durable.
*The sink burns easily because it is plastic
*Not resist heat
*Cracks are easily generated by impact.

---
Soapstone Sink
Soapstone might be the best kitchen sink material if you can stomach the price tag. It look great but it is possibly the most expensive option on this list.
Pros
*Stain resistant
*Chemically stable
*Acid resistance

Cons
*Prone to scratches, since soapstone is a softer material
*They are rather pricey

---
Copper Sink
Copper sinks are shaped like farmhouse sinks. Usually there are beautiful decorations in the front apron. They are made of copper that had been melted and then poured into a mold.
Pros
*Naturally antimicrobial
*Extremely durable
*Heat resistant

Cons
*You cannot use certain cleaning agents on copper sink
*Copper sink is very expensive